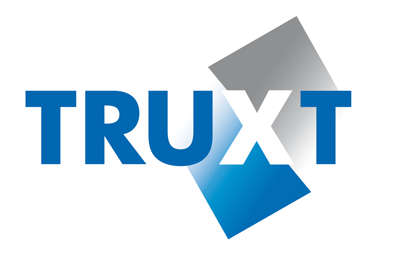 We have the solution !
---
The TRUXT label is a meaningful token of confidence granted for three years
It offers instant recognition, marking out the digital start-ups that offer the best operational and financial structures.
Businesses wishing to obtain the label are required to undergo a two-stage audit.
And you can rest assured that the label is completely reliable: we keep in touch with TRUXT holders and offer them two annual rating updates.
Proof of the service provider's reliability

The TRUXT label provides independent proof of the service provider's reliability and ability to deliver services based on a set of good operational practice standards for digital businesses.

1

A guarantee of choosing the right supplier

The TRUXT label is proof that the service provider has the sound financial structure and operational effectiveness they need to take them through the next three years.

2

A trusting business relationship

The TRUXT label proves that the service provider has optimal management processes in place to future-proof and grow their business.

3

The certainty of a safe choice

A service provider that holds the TRUXT label has a reassuring risk profile. It is safe to do business with them.

4

Service continuity if the provider fails

TRUXT label holders are eligible for the Exægis Operational Guarantee, which provides complete peace of mind by delivering service continuity even if the service provider fails.

5

An opportunity to work with new service providers

Thanks to the TRUXT label, you can place your trust in new service providers that you never would have worked with in the absence of the label.

6

A promise of both immediate and continuous improvement

Providers can use the report supplied after each audit to identify their weak points and put actions in place to remedy them. Because we work with them on a regular basis and provide two annual reviews, service providers adopt a continuous improvement approach that helps them progress and exceed expectations.

7
Testimonials
---
"We are proud and pleased to have been awarded this certification which is testimony to the quality of the work put in by all our teams to structure, organise and document all of our business processes. We have successfully completed the first stage of our journey and will now continue to structure and organise our business to provide our clients and partners with all possible guarantees of our operational and financial longevity."

Jean-Marc GononCEO, Wisper

"As a business leader it's always interesting, essential even perhaps, to have an external viewpoint on your company. We learned about the TRUXT label from our financial partners. The idea was to offer our end clients a guarantee for the services we provide, and because we work with them long-term, we felt we needed the label."

Jean-Christophe VasseurManaging Partner, Cometik

"The TRUXT label is an added guarantee of reliability for our partners, and major brands in particular. Our network, Plus que PRO, is based around the proof and trust generated by customer reviews.
Holding an external label as proof of our sound financial situation, organisational capabilities and development potential reinforces our credibility and is a perfect fit for the commitment to transparency that underpins our business."


Sacha GoeppCo-Founder, Plus que PRO

"Over the last 18 months, leasing sector businesses (manufacturers, banks and brokers) have been approaching us for support with their digital transformations. Our starTRUXT label is proof of our solution's quality and of our team's ability to deliver it. Our discussions with Exægis were very constructive. During the audit process, they challenged us on both our business vision and our operational capacity to deliver a high-quality service and offer optimum security."

Paul DecherfCo-Founder, NovaLend

"The TRUXT label is a way for us to offer a guarantee and credibility to both our partners and our clients. We can see the benefits within our teams and externally. Our staff are pleased that through the detailed audit of the processes they have set up, their hard work and commitment has been recognised. Externally, the label enhances our credibility and offers our clients, partners and other businesses a guarantee of our professionalism as a digital operator."

Cyril ArsonDirector, Yiello

"We started working with Exægis in 2016 on the recommendation of our financial partners. The TRUXT label, which is re-evaluated each year, is a guarantee of reliability for our partners and service providers, but we can also use it to demonstrate to our clients that our business is sound, agile and innovative. The way we are now operating is unique in the digitalised HACCP space."

Yves RallonChairman and CEO, CHR Numérique

"As a challenger in a market historically dominated by very large organisations, we made it our policy to generate trust, and obtaining the TRUXT label was part of this. It was a way for us to prove to all our stakeholders that we are a serious operator in the market for the long term, and we aim to use the recognition it offers to stand out with our potential clients!"

Jean-Pierre RamouiCEO de Voxity

"All the teams at Viasat Connect are very proud to have gained the TRUXT label with the highest possible rating for operational soundness. During this very difficult time, we're pleased to be able to use this label to show our current and future clients that they can count on us in the long term to provide them with the very best fleet management and mobile workforce management services."

Stéphane PuisCEO Viasat Connect France & Emixis Belgium

"The TRUXT label reinforces our credibility as a player in the digital sector. The label makes it easier for us to create partnerships and it facilitates our work with third parties across a range of areas. It's a sign that we're committed to continuous improvement and that we care about making sure the stakeholders with whom we work have confidence in us."

CEO, YouleadPrésident de Youlead
TRUXT label visibility for the digital service provider
---
To help you make the most of all the marketing and communications benefits of the TRUXT label, we include a communications pack with :
---
TRUXT badges , to display on your presentations and proposals, your digital marketing, and all your other communications media,

A press release , that you can use to inform the media that your business has been awarded a label as testimony to its operational excellence and financial soundness,

A video interview with your CEO or COO to present your business and how you have gained the TRUXT label as proof of your commitment to operational excellence,

Information sent to IT and purchasing directors at SBF 250 companies and major public sector organisations announcing that your business has been awarded the label, together with an interview in the Exægis newsletter,

An announcement of the award on Exægis's social media channels (Twitter and LinkedIn), and reposts of the video interview and all your digital communications about your TRUXT label,

Two trophies (Plexiglas) to display on your premises, showcasing the quality of your business to your staff and visitors (prospects, clients, partners, etc.)

A summary report showing the rating obtained by your business, the conclusions of the audit report and an explanation of our methodology to demonstrate the depth of the analysis carried out and the value of the rating you have secured.